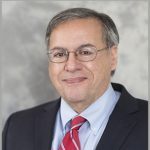 Angel Castillo, Jr.
Partner
Angel Castillo, Jr. has significant experience during more than 30 years of practice in employment and other civil litigation and in domestic and international arbitrations. Mr. Castillo is AV® Preeminent Peer Review Rated by Martindale-Hubbell. He has been recognized by both the South Florida Legal Guide and Florida Super Lawyers as one of the top Labor and Employment lawyers in South Florida.
Before joining DLD Lawyers as head of the employment law practice group, he served as a partner at the Miami offices of several national employment law firms, including Jackson Lewis, Ogletree Deakins and as Of Counsel at Morgan Lewis.
Mr. Castillo's legal practice currently focuses on workplace legal issues. He represents employers in state and federal court litigation and appeals, and before the EEOC and other agencies. He defends claims alleging employment discrimination on the basis of:
Physical and mental disabilities (Americans with Disabilities Act)
Age (Age Discrimination in Employment Act)
Gender (including sexual harassment)
Pregnancy
Religious beliefs
Race
National origin (Title VII and the Florida Civil Rights Act)
Mr. Castillo also defends claims alleging violations of federal laws:
Family and Medical Leave Act
Fair Labor Standards Act (minimum wage and overtime
Equal Pay Act (gender-based wage discrimination)
Employment-related common law and statutory tort claims such as retaliation (including whistleblower and Workers' Compensation wrongful termination claims), battery, defamation, invasion of privacy, and intentional infliction of emotional distress.
When the owner of a public building or facility (including online web sites) receives a claim alleging that it does not provide proper access to disabled visitors in violation of Title III of the Americans with Disabilities Act (ADA), Mr. Castillo is experienced in providing a strong defense.
More recently Mr. Castillo has expanded the scope of his legal work for clients of the firm to include representing Condominium and Homeowners' Associations in disputes involving claims of statutory violations, breach of contract, and housing discrimination based on protected categories such as race and religion.
Mr. Castillo has worked on Latin American legal issues throughout his years of practice. He has worked with and supervised local lawyers in and visited Mexico and many countries in the Caribbean and Central and South America, including Puerto Rico, the Dominican Republic, Costa Rica, El Salvador, Colombia, and Argentina.
Both before and after being admitted to the practice of law, Mr. Castillo had significant work experience in journalism, including working for the New York Times as legal affairs reporter, and as an assistant managing editor of The Miami Herald and editor-in-chief of its Spanish language edition, now known as El Nuevo Herald, which he helped redesign.
A native of Havana, Cuba, who has lived in the United States since his high school years, Mr. Castillo is fluent in Spanish and has a working knowledge of French, Portuguese, and Italian.
Mr. Castillo received his bachelor's degree from Stetson University, where he was student body president, and his J.D. degree with high honors from the University of Florida, where he graduated first in his class and was Executive Editor of the Law Review and a member of Phi Delta Phi. Mr. Castillo also received his LL.M. degree from Yale Law School. Mr. Castillo serves as a member of the College of Arts and Sciences Advisory Board for his alma mater, Stetson University, in DeLand, Florida.
Awards and Recognition
AV® Preeminent Peer Review Rated by Martindale-Hubbell
Selected to Florida Super Lawyers, 2006, 2014 – 2016
Selected to South Florida Legal Guide, Labor & Employment
Click on the link for a full list of honors and activities.
Publications & Speaking Engagements
"Gay Rights Advocates Score an Important win in a Federal Appeals Court," The Dade County Bar Association Bulletin (June 2018)
"Employee Handbooks Can Constitute Unfair Labor Practices," The Dade County Bar Association Bulletin (June 2015)
Click on the link for a complete list of publications and speaking engagements.
Representative Cases
Humana, Inc. v. Giselle Cushing, Case No. 20-cv-61379-Singhal/Valle (S.D. Fla. July 30, 2020)
Sierra Luciano v. Congar International Corporation, et al., 2018 WL 1725770, 2018 U.S. Dist. LEXIS 59325, Civil No. 16-2008 (ADC) (D. Puerto Rico, Mar. 30, 2018)
Otero v. Almod Diamonds Ltd., Inc., 2017 U.S. Dist. LEXIS 91523 (S.D. Fla. June 13, 2017)
Doe v. Lynn Univ., Inc., Case No. 16–CV–80850, 2017 U.S. Dist. LEXIS 7529, 2017 WL 237631, 27 Fla. L. Weekly Fed. D123b (S.D. Fla. 2017)
Click on the link for a full list of representative cases.
Memberships
The Florida Bar, Member
Admissions
Florida, 1978
U.S. District Court, Southern District of Florida, 1979
U.S. District Court, Middle District of Florida, 1979
U.S. District Court, District of Puerto Rico
U.S. Court of Appeals for the First Circuit, 1999
Supreme Court of the United States
Education
L.L.M., Yale Law School, 1980
J.D., University of Florida, 1978
B.A., Stetson University, 1967
Languages
Spanish
Blog Posts by Angel Castillo, Jr.