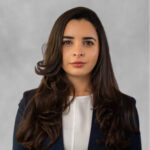 Audrey Fernandez
Associate
Audrey Fernandez is an associate attorney at DLD Lawyers focusing on insurance defense and personal injury.
Ms. Fernandez earned her Juris Doctor from Florida International University College of Law. Before law school, she obtained a Bachelor of Arts in Political Science from the University of Miami.
During law school, Ms. Fernandez honed her legal writing and analytical skills as a member of the FIU Law Review. Ms. Fernandez was also an active member of the FIU Law Board of Appellate Advocates (Moot Court), where she received various recognitions for arguing novel issues of law and procedure in both local and national competitions.
Prior to joining the firm as an associate, Ms. Fernandez worked as a Law Clerk at DLD Lawyers assisting attorneys with various matters in areas including medical malpractice, personal injury, and auto and trucking liability.
Publications & Speaking Engagements
Author, Juveniles are Different: Resolving Disparities among Courts Regarding the Constitutionality of Sentencing Juveniles to de facto Life-Without-Parole, 14 FIU L. Rev. (forthcoming 2020)
Memberships
Florida, 2020
Education
Florida International University College of Law, Juris Doctor, 2020
University of Miami, Bachelor of Arts, 2016
Languages
Spanish