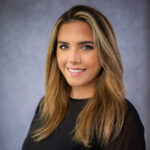 Karina Peiro
Associate
Douglas Entrance
806 Douglas Road | 12th Floor
Coral Gables, Florida 33134
305-443-4850
kpeiro@dldlawyers.com
Karina Peiro is an associate attorney at DLD Lawyers focusing on matters involving medical malpractice and personal injury.
Ms. Peiro earned her Juris Doctor from the University of Miami School of Law.  Before law school, she obtained a Bachelor of Science in from Florida Intenational University.
Throughout law school, Ms. Peiro worked as a law clerk in the firm's personal injury and medical practice group, where she conducted legal research, attended court hearings, depositions, and mediations. Ms. Peiro drafted legal briefs, pleadings, and assisted in trial preparation, including jury instructions, pretrial stipulations, and verdict forms.
Education
University of Miami School of Law, Juris Doctor, 2020
Florida Intenational University, Bachelor of Science, 2015