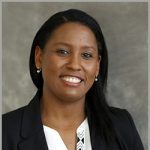 Tiya S. Rolle
Associate
Douglas Entrance
806 Douglas Road | 12th Floor
Coral Gables, Florida 33134
305-443-4850
trolle@dldlawyers.com
Tiya Rolle maintains a civil litigation practice in the areas of premises liability, professional liability, personal injury, construction law, employment discrimination, and insurance defense.
She handles a wide case load from inception to resolution for disputes involving breach of contract, indemnification, interpretation of insurance contracts, negligence, fraud, civil theft, and breach of fiduciary duty.
Ms. Rolle handles claims arising under the following acts,
Florida Consumer Collections Practices Act
Florida Deceptive and Unfair Trade Practices Act
Florida Civil Rights Act
Americans with Disabilities Act (ADA)
Civil Rights Act of 1964
She is experienced in taking depositions, arguing dispositive motions before courts, and drafting appellate pleadings before the Third and Fourth District Court of Appeals. She has extensive experience drafting substantive memorandums of law in support of motions for summary judgment and motions to dismiss.
Tiya Rolle was born and raised in Miami Shores, Florida. As a native Floridian, she fell in love with the sport of tennis and pursued a career as a professional tennis player. She competed on the professional International Tennis Federation and United States Tennis Association (USTA) circuits, which allowed her to travel around the world. Prior to law school, Ms. Rolle taught tennis to the youths of Philadelphia at the Arthur Ashe Youth and Tennis Center, now known as the Legacy Youth Tennis and Education Center.
While in law school, Ms. Rolle furthered her knowledge of the law at Oxford University, in London, England, where she studied European Union Law and Public International Law.
Ms. Rolle clerked at a Tallahassee trial law firm while in law school, where she gained experience in personal injury matters, wrongful death claims, and medical malpractice actions. She spent her last semester of law school as an extern with the Florida Commission on Human Relations, where she gained experience in employment discrimination cases.
Representative Cases
Ms. Rolle achieved a trial victory for a Fortune 500 company while serving as lead defense counsel.
Ms. Rolle prevailed on a motion for summary judgment on issues regarding res judicata and collateral estoppel principles, and the trial court decision was later affirmed per curium on appeal by Florida's Fourth District Court of Appeal.
Memberships
The Florida Bar, Member
Miami-Dade Florida Association of Women Lawyers
— 2018-19, Co-Chair for Diversity Committee
Gwen S. Cherry Black Women Lawyers Association
Dade County Bar Association
Broward County Bar Association
Virgil Hawkins Bar Association
Wilkie D. Ferguson Bar Association
American Bar Association (ABA)
National Bar Association (NBA)
Admissions
Florida, 2015
U.S. District Court, Southern District of Florida, 2016
U.S. District Court, Middle District of Florida, 2017
Education
J.D., Florida State University College of Law, 2014
— President, Black Law Students Association
B.A., cum laude, Legal Studies, Kaplan University, 2011
— Presidential and Dean's List