DLD Lawyers was proud to be a sponsor of the January 8, 2020 Miami-Dade FAWL Luncheon and Discussion with The Honorable Robert J. Luck at the JW Marriott Marquis.
The Hon. Robert J. Luck is a U.S. Circuit Judge for the U.S. Court of Appeals, Eleventh Circuit. He was nominated to the court by President Donald Trump on October 15, 2019 and confirmed by the United States Senate on November 19, 2019. Judge Luck, a native of Miami, discussed topics that included professionalism and civility.
Judge Luck has had a distinguished legal career to date. On January 14, 2019 he was appointed to the Florida Supreme Court by Governor Ron DeSantis. He previously served on the Third District Court of Appeal in Miami after his appointment there by Governor Rick Scott in March 2017.
Earlier, Justice Luck served on the Eleventh Judicial Circuit Court of Florida from September 2013 to March 2017. He presided in the Criminal, Civil, and Appellate Divisions. Justice Luck, in his years as a trial court judge, tried seventy jury trials, and heard dozens of appeals from the county court and municipal agencies.
Below are some photos from the luncheon with Judge Luck.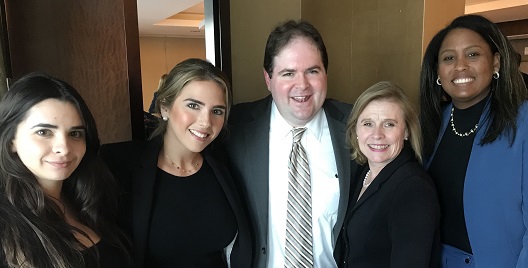 (L-R) Audrey Fernandez, Karina Peiro, Hon. Robert J. Luck, Mary Margaret Schneider, and Tiya Rolle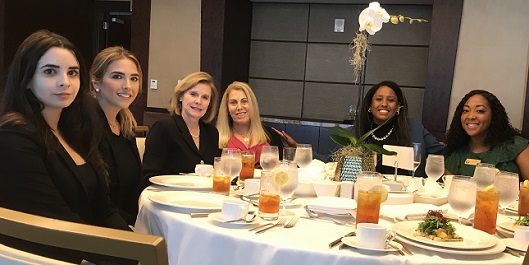 (L-R) Audrey Fernandez, Karina Peiro, Mary Margaret Schneider, Hon. Caryn C. Schwartz, Tiya Rolle, Charise A. Morgan-Joseph, (Trial Attorney with Zurich, N.A.)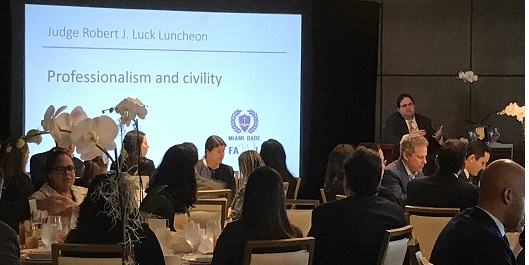 Judge Luck spoke on professionalism and civility, among other topics.