The Federal Aviation Administration (FAA) awarded UPS a full Part 135 Standard certification to operate a drone airline on Friday, September 27, according to a news release issued by the delivery company.
A spokesperson for "UPS Flight Forward," the UPS drone subsidiary, explained that the certificate allows it to expand its delivery service in large campus areas such as hospitals and universities. Residential deliveries still remain years away, however.
The certification gives UPS a temporary edge over drone delivery rivals such as Amazon and Google's Alphabet, Inc., both of which have been awarded more narrowly focused certificates for drone operation in the past.
Drone Rulemaking and Regulation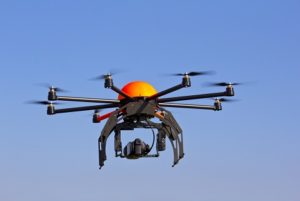 The FAA certificate awarded to UPS is called a Part 135 Standard operator certificate and allows an exemption from the prohibition on flying drones "beyond visual line of sight" (BVLOS). UPS demonstrated the need for expediency when delivering healthcare related items, where improvements in efficiency may help patients receive better medical care. In a corporate news release following announcement of the approval, UPS stated that they are looking to expand into more critical-care or lifesaving applications, as well as improving their infrastructure.
While the use of drones becomes more prominent, the FAA continues to actively write the rules regarding drone operations. Heightened safety measures are taken due to the considerable risk posed by sharing airspace with planes and flying above populated areas. The stringent rulemaking process has slowed the development of many startup companies in the emerging commercial drone space. In fact, some startups folded after spending hundreds of millions of dollars in development.
Future plans
UPS Flight Forward plans to immediately double the number of drone flights at its flagship customer, North Carolina's WakeMed Hospitals. Currently, UPS Flight Forward transports blood and tissue samples around the WakeMed campus using unmanned drones. With hundreds of similar campuses throughout the United States, the company plans to expand its BVLOS drone operations significantly. University and corporate campuses are also being viewed as expansion opportunities by UPS.
Other Applications: Surveillance, Insurance
There is optimism in the insurance claims industry that the Part 135 certificate granted to UPS, which eases restrictions on BVLOS requirements, will eventually lead to the FAA loosening its BVLOS requirements. That would in turn lead to drones that can fly further and for longer periods, at a better price point. According to a study by accounting firm Deloitte, this could happen in as little as three years.
Calculating an insurance claim may be accomplished more easily with the use of drones to film damages. This already takes place after natural disasters such as hurricanes and tornadoes, but still has not been widely adopted for day-to-day insurance claims.
Making this process more efficient may result in savings being passed down to policy holders in the form of lower prices. It is estimated that a claim that costs $1,500 in combined loss adjustments can be reduced by as much as 75% with the usage of a drone in place of traditional methods.
When using drones for insurance footage, the objective is to capture the highest resolution images possible of damaged and undamaged property. An expert is still needed to evaluate the images.
DLD Lawyers Defends Drone and Unmanned Aircraft System (UAS) Disputes
DLD Lawyers defends insurers and their insureds in drone disputes involving registration, privacy issues, accidents, close encounters with manned aircraft, and reckless endangerment.
The total number of drones registered with the Federal Aviation Administration (FAA) surpassed the 1 million mark as of January 2018, including 878,000 hobbyists and 122,000 commercial, public and other drones.
The FAA maintains detailed registration requirements and safety rules for different classes of drone users, including recreational flyers and modeler community-based organizations, certificated remote pilots including commercial operators, public safety and government users and educational users.
Disclaimer
 The information in this article is for general purposes only and does not constitute, and should not be taken as, legal advice for any individual case or situation. This information is not intended to create, and does not create, an attorney-client relationship with DLD Lawyers. No content in this article may be reproduced by any means or in any medium without prior written permission of DLD lawyers.