The U.S. Equal Employment Opportunity Commission (EEOC) has released detailed breakdowns for the 72,675 charges of workplace discrimination that the agency received in fiscal year 2019, down slightly from the 76,418 filed in 2018. Back in 2010 the agency received almost 100,000 charges.
The data show that retaliation continued to be the most frequently filed charge, followed by claims of discrimination based on disability, race and sex.
The agency also received 7,514 sexual harassment charges nationwide – 10.3 percent of all charges, and a 1.2 percent decrease from FY 2018.
Specifically, the charge numbers show the following breakdowns by bases alleged, in descending order:
Retaliation: 39,110 (53.8 percent of all charges filed)
Disability: 24,238 (33.4 percent)
Race: 23,976 (33.0 percent)
Sex: 23,532 (32.4 percent)
Age: 15,573 (21.4 percent)
National Origin: 7,009 (9.6 percent)
Color: 3,415 (4.7 percent)
Religion: 2,725 (3.7 percent)
Equal Pay Act: 1,117 (1.5 percent)
Genetic Information: 209 (0.3 percent)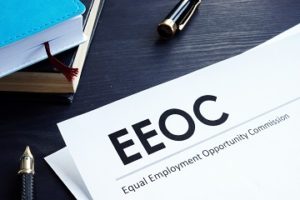 In Florida, 5,990 charges were filed, compared to 8,088 in 2011. In 2019, in keeping with the national pattern, 57% of the claims involved alleged retaliation, 33% were for disability, and 31% were for race and gender discrimination claims.
These percentages add up to more than 100% because some charges alleged multiple statutory bases.
During 2019 the EEOC filed 157 enforcement suits against employers in the federal district courts.
The EEOC is the federal government agency that enforces federal laws prohibiting employ­ment discrimination.