Unmanned Aircraft Systems (UAS) – also known as drones – will be equipped with Remote Identification ("Remote ID") technology under a 319-page proposal published on December 26, 2019 by the U.S. Department of Transportation's Federal Aviation Administration (FAA).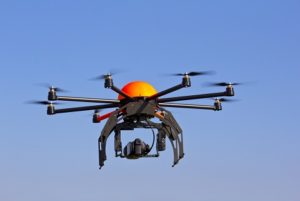 Remote ID technology would emit a particular signal that would enable a registered drone to be tracked.  A 60-day comment period is in place before the FAA will issue a final rule, which allows industry participants and members of the public to provide feedback on the proposal.
"Remote ID technologies will enhance safety and security by allowing the FAA, law enforcement, and federal security agencies to identify drones flying in their jurisdiction," said Transportation Secretary Elaine Chao.  Aviation officials do not currently have a way to identify the owner of a drone or to track the drones registered to a particular person.
The proposed Remote ID rule would apply to all drones required to register with the FAA.  These include recreational drones weighing more than 0.55 pounds, as well as to persons operating foreign civil drones in the U.S.   To register a drone, a person is required to submit their name, home address, and email to the FAA. (Recreational drones weighing under 0.55 pounds are not required to register with the FAA.)
The FAA will also launch improvements to the way applicants are tested for an FAA Airmen Certificate, which will apply to all certified pilots of manned and unmanned aircraft.  An important change will require all applicants to obtain an FAA Tracking Number (FTN) prior to registering for the test.
Initial Comments on Remote ID Tracking Technology for Drones
Drone industry participants have already begun to submit comments about the proposal.  One former FAA attorney who teaches law school notes that some federal facilities, like prisons, are authorized to use systems to detect the presence of drones.  Power plants and even airports, however, currently lack the legal authority to track drones. The proposed rule would change this and broaden the scope of authority to track drones.
Industry participants, including a Chinese company that manufactures small consumer drones and another U.S. company that trains drone pilots, have commented that the costs of complying with the proposed Remote ID rule are expected to remain low.
A concern expressed by commenters is that the remote ID technology will require an internet connection to broadcast a drone's location, but drones are often used in areas where the internet is not available. Examples can include industries such as utility inspection, precision agriculture, land surveying, ranch management and construction management, as well as search and rescue missions, which all operate at times in areas without a reliable internet capability.
Background on Drone Usage and Regulations
Drone usage is the fastest growing portion of the transportation sector with nearly 1.5 million drones and 160,000 remote pilots registered with the FAA. The Remote ID proposal would build on previous safety steps taken by both the agency and the UAS industry in regard to drone operations. Earlier regulatory efforts include the FAA's "small UAS rule" issued on July 23, 2018. This rule set applies to small unmanned aircraft (UAS) operations other than model aircraft – Part 107 of FAA regulations – and covers a broad spectrum of commercial and government uses for drones weighing less than 55 pounds.  The Low Altitude Authorization and Notification Capability (LAANC), an initiative between the FFA and the UAS industry, automates the application and approval process for a majority of UAS operators to obtain airspace authorizations.
These steps lay the foundation for an integrated traffic management operational system for drones, separate from, but complementary to, the air traffic control system. The overall goal is to supports UAS integration into the airspace.
DLD Lawyers Defends Drone and Unmanned Aircraft System (UAS) Disputes
DLD Lawyers defends insurers and their insureds in drone disputes involving registration, privacy issues, accidents, close encounters with manned aircraft, and reckless endangerment.
Total number of drones registered with the FAA surpassed the 1 million mark as of January 2018, including 878,000 hobbyists and 122,000 commercial, public and other drones.
The FAA maintains detailed registration requirements and safety rules for different classes of drone users, including recreational flyers and modeler community-based organizations, certificated remote pilots including commercial operators, public safety and government users and educational users.  Contact partner Pete DeMahy to discuss a potential matter.
Disclaimer
The information in this article is for general purposes only and does not constitute, and should not be taken as, legal advice for any individual case or situation. This information is not intended to create, and does not create, an attorney-client relationship with DLD Lawyers. No content in this article may be reproduced by any means or in any medium without prior written permission of DLD lawyers.