Patrick Gonyea to Head DLD Lawyers' Labor & Employment Division
DLD Lawyers has appointed Patrick Gonyea to head its labor and employment and directors and officers liability divisions. Mr. Gonyea is a seasoned litigator and trial lawyer with extensive experience in state, federal, and appellate courts, as well as arbitration proceedings. He represents both public and private entities throughout the state of Florida and has handled hundreds of legal matters during his career. Additionally, Mr. Gonyea counsels public, private and not-for-profit entities in matters concerning contract law, corporate compliance, employee benefits, and employee relations.
September 14, 2012
DLD Lawyers Joins NAMWOLF
DLD Lawyers is pleased to announce it is now a member of the National Association of Minority & Women Owned Law Firms (NAMWOLF). Through "strategic alliances, coalitions and affiliations," NAMWOLF promotes the retention of quality diverse law firms nationwide. To be accepted among its ranks, member law firms must pass rigorous background checks and maintain an "AV" peer review rating with Martindale-Hubbell.
August 29, 2012
Firm Partners Selected to The Best Lawyers in America (2013)
DLD Lawyers partners, Pete DeMahy, Frank Labrador, Kenneth Drake and Gregory Victor have been selected as top lawyers in The Best Lawyers in America (2013). Please click here for DLD Lawyers' and its partners' Best Lawyers profiles.
July 2, 2012
Firm Sponsors St. Thomas University Leadership Golf Tournament
DLD Lawyers has committed to platinum sponsorship of this year's Leadership Golf Tournament to be held by St. Thomas University (STU) on April 27, 2012. As well as commemorating St. Thomas University's 50th Anniversary, the tournament should raise over $175,000 for student scholarships.
April 18, 2012
DLD Lawyers Sponsors 2012 MCCA Diversity Leadership Summit
In support of the Minority Corporate Counsel Association's (MCCA) mission to advance the hiring, retention and promotion of diverse attorneys in legal departments and law firms, DLD Lawyers has committed to sponsor the 2012 MCCA Diversity Leadership Summit. The goal of the event is, apart from raising funds in pursuit of its mission, to facilitate relationship building and discourse on a number of topics covering important issues across the United States.
Gregory Victor, William McCue and Victor Ruiz will be attending the Diversity Leadership Summit on behalf of the DLD Lawyers.

March 30, 2012
Frank Labrador: 2012 Enma Tarafa Legal Excellence Award Recipient
On Friday, March 2, 2012, Florida International University's Hispanic Law Students Association (HLSA) will award Frank Labrador with the Enma Tarafa Legal Excellence Award. The award is given every year to one South Florida Hispanic legal professional who has demonstrated strong dedication to legal education and law student success. Mr. Labrador was selected this year for his involvement in the HNBA-HLSA Mentorship Program, support of law students through significant non-profit donation, and substantial contribution to FIU's College of Law.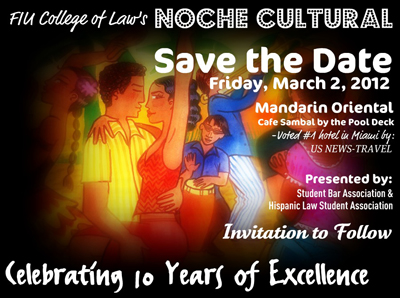 February 8, 2012
William McCue Selected to Super Lawyers 2012
Congratulations to DLD Lawyers own, William McCue, for his selection to Super Lawyers 2012! Mr. McCue has been lead counsel in more than 120 jury trials in both State and Federal Court. He is an "AV" rated attorney by Martindale-Hubbell, whose practice areas include mass tort litigation, personal injury, property loss, product and professional liability, coverage disputes and civil rights defense.
February 4, 2012
DLD Lawyers Donates $15k to HNBA Legal Education Fund
DLD Lawyers in support of national efforts to promote diversity in the workplace has donated $15,000 to the HNBA Legal Education Fund as part of its CHAMPION sponsorship of the 2012 HNBA Tennis & Golf Tournament. The Fund awards scholarships to hard working Hispanic students attending ABA-accredited law schools and provides financial assistance for "programs that address education and the law within the US Hispanic community and legal profession."  This year's Tournament will take place on Saturday, February 4, 2012 in Miami, Florida at the site of the Sony Ericsson Open, and the golf course next door. DLD Lawyers hopes to see you there.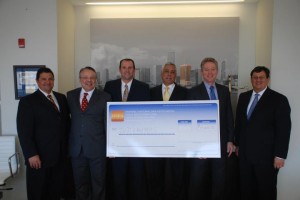 (Left to right: Orlando Cabeza, Frank Labrador, Clinton
Payne, Pete DeMahy, Kenneth Drake, and Gregory Victor )
January 4, 2012

Gregory Victor to Speak at the 2012 CLM Alliance Conference
Gregory Victor, attorney at DLD Lawyers, has been selected to speak at the 2012 Annual Conference of the Claims and Litigation Management Alliance (CLM). Mr. Victor is slated to speak on the topic of improving the attorney-client relationship and meeting the client's diversity and other corporate goals through an effective relationship partner.
Mr. Victor's practice encompasses all aspects of the defense of property, casualty, personal injury insurance and general civil litigation matters in state and federal court. Mr. Victor has extensive trial experience in cases involving product liability, coverage disputes, bad faith, wrongful death, automobile, trucking, premises and commercial liability, negligent security, intentional torts, and property loss. Mr. Victor has served as a national and regional supervising and coordinating counsel for major insurance companies. He began his career as a prosecutor for the Dade County State Attorney's office working under Janet Reno and is a former division chief and major crimes prosecutor. He is an "AV" rated attorney by Martindale-Hubbell Lawyers Directory.
The CLM conference will be one of the largest, fully inclusive defense industry conferences in 2012. It will be held March 28-30 in San Diego, California where more than 80 collaborative educational sessions featuring more than 300 speakers are scheduled and is expected to draw attendees from around the world.
About the CLM
The Claims and Litigation Management Alliance (CLM) is an inclusive, collaborative organization that promotes and furthers the highest standards of claims and litigation management and brings together the thought leaders in both industries. CLM's members and fellow include risk and litigation managers, insurance and claims professionals, corporate counsel, outside counsel and third party vendors. The CLM sponsors educational programs, provides resources an dfosters communication among all in the industry. To learn more about the CLM, please visit www.theclm.org.
January 4, 2012