As of January 1, 2020, Florida drivers caught texting while driving may face a non-moving violation with a fine of $30 for first time offenders under the Florida Ban on Texting While Driving Law.  A second-time offender caught texting while driving within five years of the initial offense will be charged with a moving violation and a $60 fine, with three points on their license.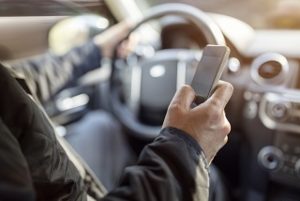 The Florida Ban on Texting While Driving Law (Florida Statute 316.305), technically went into effect July 1, 2019; however, law enforcement used the first six months to educate drivers about the new law when they were caught texting while driving.  Governor Ron DeSantis has said, "texting and driving is one of the most dangerous driving behaviors and it is every driver's responsibility to help ensure we all get home safely." According to AAA, The Auto Club Group, "drivers who text and drive are eight times more likely to be involved in a crash". Furthermore, sending and receiving a text message takes a driver's eyes off the road for five seconds.  If a vehicle is traveling at 55 mph, that's equivalent to driving the length of an entire football field with the driver's eyes closed.
Distracted driving is defined as any activity that diverts the driver's attention away from driving.  Common examples include eating and drinking, talking or texting on the phone, and setting the radio.  In 2017, over 3,000 people nationwide were killed by distracted driving according to the National Highway Traffic Safety Administration.
In 2016, Florida had nearly 50,000 accidents caused by distracted driving which resulted in 233 deaths, according to Governor Ron DeSantis. The head of the Florida Sheriffs Association said, "distracted driving is truly a killer. Enforcing the crime of texting while driving as a primary offense, rather than a secondary offense, will now allow law enforcement to enforce the law and save lives in the process."
There is also a hands-free portion of the Florida Ban on Texting While Driving Law which forbids talking with a cellphone in hand while driving in a school zone or active work zone.  Drivers may still use Bluetooth or hands-free devices to talk on their cellphone; however, if utilizing ear buds, one of the driver's ears must not contain an ear bud.  Since October 1, 2019, 30 tickets have been issued for violations of the hands-free portion of the law.  Those caught violating the hands-free portion of the law are issued a $60 fine and receive three points on their license.  Advocates of Florida's new law hope to see Florida go totally hands-free, which is currently the law in 21 other states.
Despite Florida's ban on texting while driving, drivers are still allowed to use cellphones to track GPS directions, although it is recommended that voice directions be employed.  If a driver is caught texting while at a stop light, law enforcement may not issue the driver a citation.  If a driver is stopped for texting while driving, law enforcement cannot take the driver's phone to see if they were texting; law enforcement needs the driver's consent before they are allowed to look through the driver's cellphone.
By way of background, Washington was the first state to ban texting while driving in 2007.  Today, 48 states, including D.C., Puerto Rico, Guam, and the U.S. Virgin Islands ban text messaging for all drivers, and all but three of these states/territories consider texting while driving a primary offense, which is a traffic violation that law enforcement needs no other reason to pull the driver over – in this case texting while driving.  A citation for a secondary offense can only be issued after a driver has been pulled over for a valid primary offense.  Of the two states that do not have a ban on all drivers texting while driving, one of the two states prohibits texting while driving by novice drivers.  A novice driver is someone who has held their license for less than two years (learners permit drivers).
About the Auto Liability Practice at DLD Lawyers
The automotive liability attorneys at DLD Lawyers are experienced in defending standard and non-standard automotive insurers and their insureds in automobile and motorcycle accidents. Accidents involving trucks and inland marine transportation policies are also handled by DLD Lawyers. Partners Pete Demahy and Orlando Cabeza are co-chairs of the Auto Liability practice group.
DLD Lawyers works quickly to investigate the circumstances surrounding the accident, including cellphone use, road and construction conditions, signage, the use of seatbelts, driver distractions, and other contributing factors. Damages are evaluated using lost earnings analysis, life-care plans, vocational evaluations, medical expenses, and the presence of pre-existing conditions.
When product liability becomes an element in an automotive liability matter – such as brakes, airbags, child car seats, or seat belts – the Product Liability group at DLD Lawyers is ready the respond.
Disclaimer
The information in this article is for general purposes only and does not constitute, and should not be taken as, legal advice for any individual case or situation. This information is not intended to create, and does not create, an attorney-client relationship with DLD Lawyers. No content in this article may be reproduced by any means or in any medium without prior written permission of DLD lawyers.