Motor carriers and commercial drivers are now required to fully comply with the federal electronic logging device (ELD) rule that recently took effect in mid-December. The rule, issued by the Federal Motor Carrier Safety Administration (FMCSA), applies to motor carriers and commercial truck drivers who must maintain records of duty service (RODS) under hours-of-service (HOS) regulations.
The ELD rule was initially published December 15, 2016, which launched a period of transition, awareness, and education. Initial compliance obligations started on December 18, 2017 and required motor carriers to record on-duty and off-duty time using an ELD.  Motor carriers that were actively using an "automatic on-board recording device" (AOBRD) prior to December 18, 2017 were allowed to continue using that format until the final compliance date of December 16, 2019.  Full implementation is now in effect.
Approved electronic logging devices must be certified by their manufacturers based on their ability to meet technical standards. All ELDs must be registered with the FMCSA prior to use.
Reporting Requirements of the New ELD Rules
The final rules now in effect impose very specific reporting requirements on the owners and operators of commercial motor vehicles. A few key points, as published by the Federal Motor Carrier Safety Administration, appear below.
Motor carriers are required to retain up to eight supporting documents for each 24-hour period that a driver is on duty. Drivers must submit RODS and all their supporting documents to the motor carrier within 13 days after receiving them.
Commercial vehicle reporting does not require real-time tracking, but the motor carrier is not prevented from doing so for business purposes.
When ELD data is transmitted to safety officials, data that would identify a location is limited in order to protect driver privacy.
Address-specific data is not required but can be collected. Federal rules only require that a "general proximity" be identified relative to the nearest city, town or village. If street-level data is collected, it does not need to be submitted as part of the safety reporting.
In the event of a safety audit, documents relating to the driver's record of duty may be requested. These can include but are not limited to toll receipts, fuel purchase records, and bills of lading.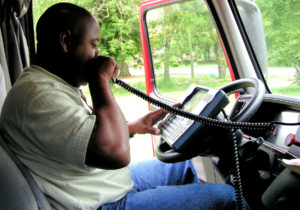 The goals of increasing safety on the nation's highways, protecting commercial truck drivers, and faster reporting of compliance data are behind the FMCSA's push for electronic logging devices. Congress adopted the rule as part of the Moving Ahead for Progress in the 21st Century Act, also known as the MAP-21 Act.
According to the FMCSA, the ELD must connect to the vehicle's engine in order to capture data on whether the engine is running, whether the vehicle is moving, miles driven, and the duration of engine operation (engine hours). The rule applies to commercial buses as well as trucks.  The ELD rule was aimed at keeping truckers safe by preventing them from driving more than 11 hours or working more than 14 hours per day.  The FMCSA "14 Hour Driving Window," allows truck operators to drive up to 11 hours within a period of 14 consecutive hours after being off duty for 10 or more consecutive hours.
About the Transportation Practice Group at DLD Lawyers
Florida transportation and trucking attorneys at DLD Lawyers are available to advise motor carriers on matters relating to ELD requirements, as well as accidents in which ELD records will play a role.   Accidents involving trucks and inland marine transportation policies are frequently handled by DLD Lawyers. Given the severity of claims often involved in a trucking accident, members of the firm act decisively and with understanding when defending motor carriers and commercial truck drivers against bodily injury, property damage and wrongful death claims.
The firm maintains a roster of court-approved experts in the areas of safety, engineering, medical care, and economics in support of the insured's defense, when needed.
Disclaimer
The information in this article is for general purposes only and does not constitute, and should not be taken as, legal advice for any individual case or situation. This information is not intended to create, and does not create, an attorney-client relationship with DLD Lawyers. No content in this article may be reproduced by any means or in any medium without prior written permission of DLD lawyers.