In 2019, the percent of wage and salary workers who were members of unions in the United States was 10.3 percent—almost half the 20.3 percent rate in 1983—the Bureau of Labor Statistics reports.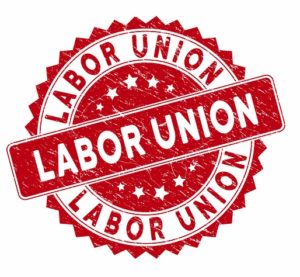 The number of wage and salary workers belonging to unions was 14.6 million in 2019, falling by 170,000 from 2018.
Over half of the unionized workers were concentrated in just seven states, even though those states only accounted for a third of the workforce. Those states are California with 2.5 million unionized workers, New York with 1.7 million, Illinois with 0.8 million, Pennsylvania with 0.7 million, and New Jersey, Ohio, and Washington, each with 0.6 million.
In 1983, the first year for which comparable union data are available, the national union membership rate was 20.1 percent, and there were 17.7 million union workers in the United States.
Highlights from the Bureau's 2019 Data
The union membership rate of public-sector workers (33.6 percent) continued to be more than five times higher than the rate of private-sector workers (6.2 percent). In 2019, 7.1 million employees in the public sector belonged to a union, compared with 7.5 million workers in the private sector.
The highest unionization rates were among workers in protective service occupations (33.8 percent) and in education, training, and library occupations (33.1 percent).
Men continued to have a higher union membership rate (10.8 percent) than women (9.7 percent).
African-American workers remained more likely to be union members than white, Asian, or Hispanic workers.
Nonunion workers had median weekly earnings that were 81 percent of earnings for workers who were union members ($892 versus $1,095). Union workers out-earned nonunion workers' median salaries by 22.7 percent.
Among the states, Hawaii and New York had the highest union membership rates (23.5 percent and 21.0 percent, respectively), while South Carolina and North Carolina had the lowest (2.2 percent and 2.3 percent, respectively).
In Florida, 6.2 percent of employed wage and salary workers (551,000) were union members in 2019, compared to 5.6 percent (484,000) in 2018. The total employed workforce in Florida was 8.8-million in 2019, compared to 8.7-million in 2018. The state's total population was about 21.5-million in 2019 and 21.2-million in 2018.
Within the public sector, the union membership rate was highest in local government (39.4 percent), which employs many workers in heavily unionized occupations, such as police officers, firefighters, and teachers. Private-sector industries with high unionization rates included utilities (23.4 percent), transportation and warehousing (16.1 percent), and telecommunications (14.1 percent). Low unionization rates occurred in finance (1.1 percent), insurance (1.4 percent), professional and technical services (1.4 percent), and food services and drinking places (1.4 percent).
Unionization rates were lowest in farming, fishing, and forestry occupations (2.1 percent); sales and related occupations (2.8 percent); and food preparation and serving related occupations (3.5 percent).
By age, union membership rates continued to be highest among workers ages 45 to 64. In 2019, 12.6 percent of workers ages 45 to 54 and 12.7 percent of those ages 55 to 64 were union members.
Kate Bronfenbrenner, director of labor education research at Cornell University in Ithaca, New York, blamed the decline in union membership on the "anti-labor policies" of the Trump administration.
"The decline in union density is not surprising. Despite the talk of a boom economy, the climate for organizing has become much more hostile in the last year under the openly anti-union Trump NLRB (National Labor Relations Board)," she said. Declines in unionization, she added, were concentrated among white private sector workers.
Perhaps paradoxically, polling by Gallup last year found that union favorability had hit a 16-year high, after dipping significantly around the time of the 2008 Recession. Of those polled, 64% said they approved of unions ― the highest rate since 2003, and among the highest in the past 50 years.